With more than nine years of product marketing management experience, I've worked closely with product, sales and support teams to create compelling inbound and outbound marketing strategies including website content, emails, direct mail and events. I'm extremely versatile and enjoy crafting messages for various audiences. These are some examples of my work.
Since 2000, Simplifile has connected lenders, settlement agents, and counties for real-time online collaboration and electronic recording. Boasting the nation's largest e-recording network, Simplifile's goal is to streamline real estate transactions.
In my time at Simplifile, I've increased leads by 65% per quarter, established a brand style guide and company blog and facilitated the implementation of HubSpot for better lead nourishment and tracking.
"Reach New Heights" Campaign
We launched a new Simplifile service offering for settlement agents in California. To kick off, I created a "Reach New Heights" campaign, which included a fully-branded package with letter and balsa plane as well as an email and lander. 35.6% opens, 3.1% CTR
"Origami" Campaign
A targeted campaign to lender leads that also use Simplifile's integration partner Encompass, informing them of the benefits of going paperless with Simplifile's SaaS offerings. Campaign included a mailed letter with origami paper and instructions, four emails and a landing page. 17.2% opens, 12% clicks, 4.3% CTR
"Spring into e-recording" Campaign
County recording offices see an uptick in title recording in the spring. In order to ease their stress, I developed a campaign where we sent mid-funnel leads fresh flowers, a note and emails about switching to Simplifile e-recording service to save time. 28.6% opens, 14.3% clicks, 50% CTR
A mission-critical technology leader in the financial technology industry for more than 30 years, a la mode's products are used by hundreds of thousands of professionals to power more than 50% of all US real estate transactions. 

While at a la mode, I increased new customers by 300% during a slow market, increased blog subscriptions by 598% in a year and contributed to the highest number of customer service upgrades in a decade.
"Why are you still using a clipboard?" Campaign
Appraisers are skeptical and set in their ways. To confront this, we followed an a la mode customer using our mobile app on inspection and created a video case study. I used his words to direct a successful campaign directed at mid-funnel leads who expressed interest in mobile. The campaign included an email and three-panel brochure.
"Your competitors are much faster" Brochure
A three-panel mailer targeted to mobile-interested leads, showcasing how a la mode's mobile app saves customers time, and busting common myths about going mobile.
"Your competitors are much faster" PDF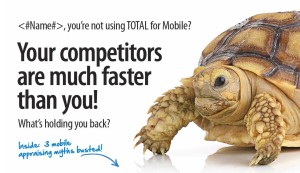 "The Modern Appraiser Roadshow" Mailer
This three-panel mailer kicked off a la mode's live training series, which sold out in 2014.
"The Modern Appraiser Roadshow" PDF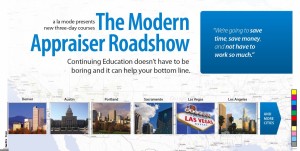 "Gold/Platinum upgrade" Postcards
This pair of postcards was mailed to a la mode customers enticing them to upgrade their support membership levels along with an email campaign. The frames were printed with gold and silver foil and resulted in record upgrades.
"Cut turn times" Email
Appraisers often work long hours, this email appeals to their need to have more free time. It links to an accompanying landing page where they can calculate how much total time they'd save with a la mode's TOTAL SaaS each year.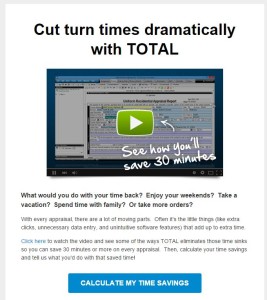 "Why keep paying so much?" Email
This email points out the price differences between a la mode's TOTAL SaaS package and the competitors' and promotes our buyout program.
"Why keep paying so much?" email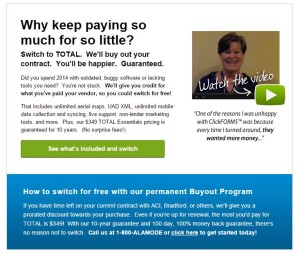 "How do I…" Email
Often we'd hear from appraisers that they're interested in a la mode's product, but they were worried about the learning curve. I directed a series of quick videos addressing the most common questions and used it in an education campaign to strong leads.
"Spring 2016 Appraiser Solutions Guide" Catalog
a la mode's semi-annual catalog covers all of our products in detail.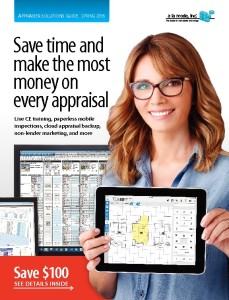 SoonerCon is Oklahoma's longest-running pop culture and gaming convention. The convention is a nonprofit venture put on by The Future Society of Central Oklahoma; promoting arts, literature, and the sciences through the lens of pop culture. 
I joined SoonerCon in late 2017 to help them grow their social media presence and marketing efforts. As Director of Communications and Social Media Manager, I increased Facebook likes by 36% in two years and daily engagement by 26% in one year. I established an Instagram with nearly 1,000 followers in a year and more than 1,500 hashtag uses in 2019. 
I also helped increase revenue by 34% in 2019 over 2018 and attendance by 23%.
Extra Life is a Children's Miracle Network charity fundraiser made by and for gamers. The idea is to play games for 24 hours and raise money for your local Children's Hospital. I began Extra Life in 2015 with a tabletop gaming event at local store, Game HQ. I took over the leadership and planning of the event in 2016 and grew both the scope of activities and fundraising opportunities via sponsors. 
In six years, I increased fundraising by 94%, smashing goals every year. As of December 2019, we've raised $25,717.62 for the Oklahoma City Children's Hospital. 
In 2018 I was asked to join the Children's Miracle Network Board and have served on it since.