You think you get a lot of spam e-mails? Try being an editor for a newspaper.
The amount of spam I receive is astounding, and most of it is written like a press release trying to entice me into thinking their product is awesome enough to let the entire population of Hugo, Okla. know about through our fair publication.
Needless to say, I check my e-mails with one finger over the delete button. I read in the Oklahoma Press Association publication awhile back that one paper decided to start sending e-mails back asking to send a sample of their product. Surprisingly, this method has worked and the paper has received items like coffee pots and make up. They then review the items, good or bad. This is a fun idea, but I just don't have the patience right now.
One junk e-mail has stuck out for me as I have received it about three times now and the product just sort of blows my mind.

Meet the SPIbelt: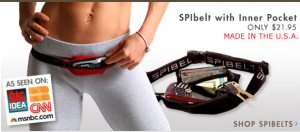 Look at that handy little pack. She can fit so many things in it, too! A phone, a wallet, some keys … And it fits right on your hips, one might even say it fits snugly above the fanny. Oh wait, I've seen this before:


It's a fanny pack, people! I'm only an assistant editor not a miracle worker, I cannot bring the '80s back for you.