Marketing Portfolio
With more than five years of product marketing management experience, content, email, direct mail and outbound marketing are my biggest strengths. My latest focus has been on inbound marketing techniques. Below, you'll find a few samples of my work. These snippets of campaigns are targeted at real estate appraisers (small business owners) who primarily need to do more with less time but are slow to adopt new technology.
Direct mail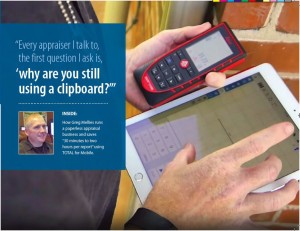 "Why are you still using a clipboard?" brochure PDF
A targeted three-panel brochure sent to non-customers who've expressed interest in using our mobile app. I used a video story we developed with a customer as the basis for the campaign.
---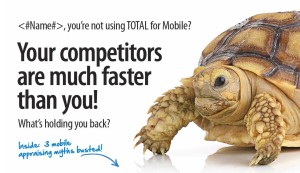 "Your competitors are much faster" PDF
A three-panel mailer showcasing how our mobile app saves our customers time, and busting common myths about going mobile.
---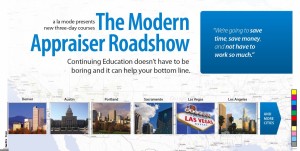 "The Modern Appraiser Roadshow" PDF
This three-panel mailer kicked off our live event series, which sold out in 2014.
---
"Good in Gold" PDF | "Go Platinum" PDF
This pair of postcards was mailed to our customers enticing them to upgrade their support membership levels. The frames were actually printed with gold and silver foil.
---
Emails
Appraisers often work long hours, this email appeals to their need to have more free time. It links to an accompanying landing page where they can calculate how much total time they'd save with TOTAL each year.
---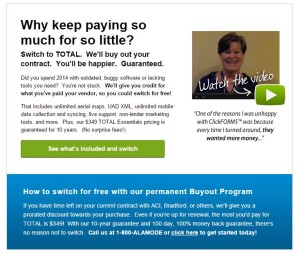 "Why keep paying so much?" email

This email points out the price differences between our software package and the competitors' and promotes our buyout program.
---
Often we'd hear from appraisers that they're interested in our product, but they're worried about the learning curve. We put together a series of quick videos addressing the most common questions.
---
"See how Greg saves time" email
Appraisers are skeptical and set in their ways. To confront this, we followed a real customer using our mobile app on inspection. I used his words to direct this successful campaign.
---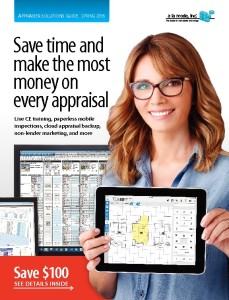 "Spring 2016 Appraiser Solutions Guide" catalog
Our semi-annual catalog covers all of our products in detail.