Browsing articles in "internet"
This post is going to be a bit of a life update since I have neglected my blog for so long, but do not stress for it will also directly relate to the Internet.
I haven't updated my blog since April because May became quite hectic for me.
I graduated.
My family came to visit.
And I got a job within the same week. In a few short days, all of our stuff had to be packed and moved 484 miles to my new home in Hugo, Oklahoma.
Internet was a necessary utility of course, so I went in to the local cable company, SuddenLink, and signed up for the high speed Internet/cable TV package. We had cable in Columbia and though we had a few connection issues, overall we were happy with the package. We had phone, 10 mbps Internet and cable that included a DVR box.
I was surprised for the price of the package (~$79 a month) that we weren't getting any deals. Only 56 channels and no DVR or cable box of any kind. It was the Internet, however, which really irritated me. After using it for a few days we were confused why YouTube videos wouldn't load and we'd get kicked off any online games. We checked the speed and were amazed that we were topping out at only 128 k. We visited the SuddenLink office and discovered that our package was, in fact, for 128 k. I guess I should have clarified what "high speed" meant. To upgrade just a little in speed was going to be $15 more.
Frustrated, we decided to do our research. Turns out that in this small town DSL is actually faster than cable. So at the beginning of this week we took the plunge, ditched SuddenLink for good and got an AT&T/DirecTV package. For the same price, we get 200 channels with a DVR box and a lovely 6 mbps download speed. Joyous day! I am all about getting the most for my money so I think this was a wise switch.
Also, our SlingBox now works.
What's sad is the lady who works at SuddenLink didn't even bother trying to convince us to stay, she even admitted to having AT&T herself.
I am, however, frustrated that I did not know about the Blizzard deal running with DirecTV before purchasing everything. I could have gotten a free in-game WoW pet and got to watch BlizzCon for free. 🙁  It's always something.
Something amazing, even magical, happened to ESPN.com — unicorns. It seems that the code has been purged now from the site, but when you entered the infamous Konami cheat code (up, up, down, down, left, right, left, right, B, A, enter) on any ESPN.com page a plethora of sparkly unicorns and rainbows would appear.
Don't' believe me?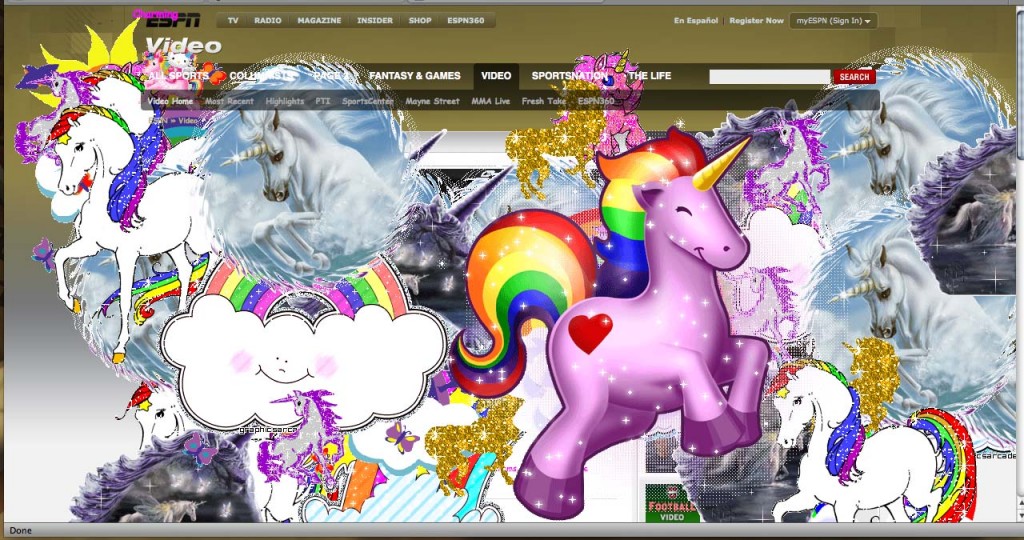 The more you pressed enter, the more unicorns would appear. It seems the source of the Java script came from cornify.com, which prides itself on being "the #1 unicorn and rainbow service worldwide, giving websites sparkle around the world."
Missed the unicorns on ESPN? You can enter this code into your browser's address bar and cornify any page:
javascript:(function(){var%20d=document,j=d.getElementById('__cornify_nodes'),k=null;
var%20files=['http://cornify.com/js/cornify.js','http://cornify.com
/js/cornify_run.js'];if(j){cornify_add();}else{k=d.createElement('div');
k.id='__cornify_nodes';d.getElementsByTagName('body')[0].appendChild(k);
for(var%20l=0;l
k.appendChild(j);}}})();
Or, for more fun with Java, enter this code into your browser bar while on any image-heavy Web page:
javascript:R=0; x1=.1; y1=.05; x2=.25; y2=.24; x3=1.6; y3=.24; x4=300; y4=200; x5=300; y5=200; DI=document.getElementsByTagName("img"); DIL=DI.length; function A(){for(i=0; i-DIL; i++){DIS=DI[ i ].style; DIS.position='absolute'; DIS.left=(Math.sin(R*x1+i*x2+x3)*x4+x5)+ "px"; DIS.top=(Math.cos(R*y1+i*y2+y3)*y4+y5)+" px"}R++}setInterval('A()',5); void(0)
now watch the images dance around the screen.
Fashion is not my strong suit. I think I have a general idea of what's cute but for the last four years of college my regular wardrobe has mostly consisted of Mizzou T-shirts and jeans. My footwear is usually flip flops or a pair of flats in the warm months and Converse or snow boots when it gets cooler. Now, I'm about to graduate (yay!) and am thinking I should probably be a bit more stylish and adult in my dress. But this world of fashion can be so confusing!
So, being the nerd that I am, I of course turned to the Internet. I found http://www.polyvore.com/, a site where you can create sets of clothing, bags and accessories to get ideas for outfits.
I am clearly no fashionista but within about 30 minutes I had created:
Cool Day
by
amberrosie
featuring
Stella McCartney earrings
The cool thing about Polyvore is people can comment and critique your outfits. You also can view other people's Polyvores to get some ideas. Here's a few popular ones today:
Picnic Date
by
Angendil
featuring
Betsey Johnson bracelets
For: nat26
by
Natalcia?
on
Polyvore.com
As you can see, you can pick your outfit right down to the perfume and make up. The site also gives you prices and links to where you can buy the items, but some of them are a bit outrageous. Those wedge teal sandals I picked out? Yeah, they're $438.84. That's definitely out of my price range for clothes.

However, it is a great way to get ideas to take to the more affordable places like
Kohl's
and
Target
in your search. I'm pretty positive I can find something similar in the mall if I were in love with that piece.
Go out and be fabulous, Webophiles!
I got onto the beta for a new kind of social network site, Likaholix. You create your page and begin listing things that you like. You can add comments to go along with your liked items (books, music, movies, parks, restaurants, products, Web sites, cities, etc.) and say why you like them. You also can view other people's pages and like items on their list, or just learn more about things people like. After awhile, Likaholix will begin recommending things you might like and is usually fairly accurate. The more you like, the more personalized the recommendations become. Of course, the coolest part is being the first to like something.
At first, it was like Facebook or Twitter (read: crack), in that I couldn't stop. Within the first week of  joining, I was liking like a mad woman:
I was the first to like 52 individual items and 113 people liked things that I liked. I'm thinking, I'm pretty popular. Plus there's a neat contest giving away Kindles for top beta users. Rockin', I can do that. Then I realized there were people with literally thousands of likes. I don't even know if I like thousands of things. Am I just a pessimist? It appears not. I noticed that many people were "liking" items but then their comments would be negative about the product or often along the lines of, "I haven't seen this movie/read this book but I want to." Kind of defeats the purpose of the recommendation part of the site. Continue reading »
I re-stumbled upon a fun Web site called Wordle. You can enter text or Web site links and Wordle will create a word cloud. The words that show up the most are larger in the cloud. You can edit the format the word cloud appears in (horizontal or vertical words), the color scheme and the font. They're pretty artistic.
Here is amberhanneken.com:

I copy and pasted Leviticus from the Bible:

A Web comic I read, Nemu Nemu:
I copy and pasted "Harrison Bergeron", a short story by Kurt Vonnegut:

Go make some Wordles!
It's something every adult thinks about at some point in time, "What will happen if I'm suddenly gone?" Many of us consider things like what will happen to our possessions, assets, pets, remains, organs and loved ones should we suddenly pass on. Some of us have plans, either verbally given to family or written out in a living will or trust.
Slightly morbid
But what about our online identities? How will the people we game with, chat with and interact with online ever know what happened? I know I'm not the only one who has thought about this because there's a site for it: SlightlyMorbid. For $9.95, $19.95 or $49.95, this service will allow you to create a list of friends and a list of trusted contacts. The site then creates a certificate with simple instructions to be given to your designated trusted contacts in case of emergency so that they can notify the people you know online.
Of course, this service seems like something I could do on my own, which is probably a good idea. If you don't have a trusted friend already with access to your accounts/friends list online, then it's a good idea to keep that information somewhere with your other important documents either printed out or on a flash drive. Continue reading »