Browsing articles in "internet"
I love FarmVille. The first step is admitting it.
If you don't know, FarmVille is an application game by Zynga on Facebook. The goal of the game is to manage a virtual farm by planting crops and orchards, raising animals and harvesting/collecting the fruits of your labors. As you play, you gain both gold and experience points. Experience points count toward levels, each new level unlocks new plants/animals/items to purchase and the ability to expand your farm. Gold can be used to purchase seeds for planting, animals and various decorations for your farm. You can also get items and bonuses for unlocking achievements or "ribbons," usually for doing things like planting a certain number of crops, milking a certain number of cows, etc.
Another large part of the game is interacting with other Facebook friends who play FarmVille. You can add your friends as neighbors. The more friends you have as neighbors, the larger your farm can be. Friends can visit each others' farms and fertilize crops/feed their chickens giving them bonuses when they harvest. There are a number of free gifts you can send your friends to help them with their farms including trees, animals, decor and building materials. Another bonus to having friends that play are news feed updates. When a friend makes a certain achievement or finds a special item like a lost cat or "lonely bull" they have the option of sharing it on their Facebook feed, leaving the item up for grabs for other FarmVille-playing friends.
There's the basics. Now I'd like to share some tips/tricks I've learned that have aided me in playing the game.
But, Amber, I hate FarmVille. How do I never hear about your stupid chickens laying eggs?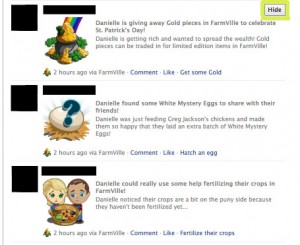 First thing's first, I understand that not everyone gets or even likes FarmVille. I've heard of frustrated people getting bombarded by FarmVille updates in their news feeds "defriending" people. This is completely unnecessary. If you don't want to see FarmVille updates, or any other updates for that matter, Facebook has the option to hide them.
As you can see in the image at left, I've highlighted the "hide" button. It appears when you hover over the right side of a news feed item. Click on it and it will give you the option to hide FarmVille updates or, if you really don't like your friends, all of their updates.
Got it? Now on to advice for the FarmVillains who still want to play.
FarmVille.com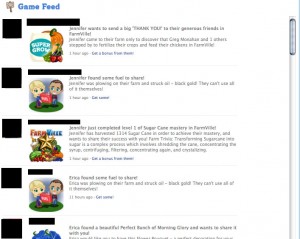 My first suggestion is to ditch playing FarmVille through Facebook. Once I collect the free gifts from my friends on Facebook, I head over to www.farmville.com. Why? There's several reasons. For me, the game runs much more smoothly on the site and has a really clean interface. The big reason, though, is the "game feed."
On FarmVille.com, there is a convenient game feed (pictured right) below your game window. If you've ever been frustrated because you were too late on a game bonus as a result of getting lost in your Facebook news feed, then this will come as a relief. It places all of your friends' FarmVille updates in one place. I've gotten so many more coin bonuses, free animals, gas, flowers and collectibles since I started using the Web site. I've also been better able to help friends requesting certain items or looking for help to upgrade their storage/chicken coops.
Another positive side of using the is exclusive gifts to send your friends that can only be found on FarmVille.com.
Another way I like to play, and this is not limited to FarmVille.com, is in full screen mode. It's especially useful when your farm gets large so you can better see everything. This is done by clicking the button on your tool bar that looks like a little square on a big square next to the "+" and "-" zoom in/out buttons.
It's a trap!
I'm an impatient person. One thing I can't stand on FarmVille is when harvesting trees or animals you have to wait on your miniature sprite to walk all across the farm manually picking each cherry and sheering each sheep. You can speed this process up by trapping them. Continue reading »
There is nothing I love more than social networking being used for a greater good. In these hard economics times we need to stick together and help each other. Thus was born helpaprproout.com. Help a PR Pro Out Day, or #HAPPO on Twitter, is a day for job seekers and employers in the PR field to connect. It's all happening from 10 a.m. to 2 p.m. CST Friday, Feb. 19. The idea is for job seekers to pitch themselves in a blog post and advertise it using the #HAPPO tag on Twitter. Employers will be searching by the hash tag and also posting openings in their companies. So far, there is a growing list of PR pros on the HAPPO site who will be helping to connect job seekers with employers in their prospective areas.
The sentiment that seems to be the most common with job seekers, from entry level to ultra-experienced, is the problem of getting noticed in a sea of applications. For many positions in journalism and public relations fields, candidates are vying for one position against 200 to 300 other people. In these cases, it's often not about what you know but who you know. With HAPPO, employers are pledging to give prospective employees a chance by reading their pitch. It's suggested to be creative and showcase your talents when participating. The best way to keep up to date on this event is to follow the HAPPO Twitter or Facebook page. I hope to see more of this kind of thing happening in all the fields where social media is such a crucial tool.
It breaks my heart to hear of people without work, putting out hundreds of applications and hearing back from none. Here's to #HAPPO and to everyone finding a job in 2010!
Last post, I talked about sites I believe are legitimate ways of earning money or prizes online. Now I'm going to talk about a site I am completely unsure of. I make no promises to anyone that joins Lockerz.
The premise of Lockerz is that you join their site and earn "ptz" by answering a daily survey question, logging in and inviting friends. When you invite 20 people, you become a "Z-lister" and get double "ptz." Yeah, the names are lame. Anyway, the site is still in Beta but as of now you can only spend your points on redemption days. The thing that has made Lockerz users angry is that they will not tell you when redemption is, only that it is "coming" and could happen at any time on any day usually near the end of the month. That means you basically have to sit at your computer refreshing the redemption page for 24 hours straight for five days to ensure you get the chance to spend your points.
The prizes include DVDs and video games to PS3s, Xboxes, Nintendo DS, PSPs, Wiis, iPods and even laptops. The amount of points to buy these items varies and makes little sense. For instance, DVDs are more points than video games. You won't know what prizes will be available until the redemption site opens and because of the large amount of users, you have to have light speed mouse skills because every prize sells out about two seconds after the page goes live. This results in many angry comments all over Lockerz Facebook fanpage, which they completely ignore.
The other part of Lockerz is the random video blogs they post almost daily that I am pretty sure no one watches. They're usually some hipster inside jokes or have some semi-famous band that I've never heard of doing something wacky. Funny story, I commented on their Facebook page that no one cares about their videos and they deleted the comment then blocked me. Touchy subject I guess. Continue reading »
Many people who know me know I love legit ways of winning things and making money on the Internet — the trouble is finding the legitimate sites. For the most part, you can't go wrong on sweepstakes and contests sponsored by corporations. For instance, I won the Razer Carcharias headset from Mountain Dew when they were running their Game Fuel competition with Blizzard Entertainment. By watching videos and clicking around the site you made points each day. Those points were essentially like raffle tickets that you could use on their hourly drawings for lots of gamer and Mt. Dew loot — e.g. entering 200 points put your name in the drawing 200 times.
On Twitter, I have won free domain names from NameCheap (yes, this very site is a result of that) and a World of Warcraft prize pack from Blizzard, although it took its sweet time showing up.
MyLikes, formerly Likaholix which I posted about before, has been pretty sweet to me. I've won a lot of money (that's right, cash) through their contests, which simply require that you make a list of likes for specific categories in the contest like "favorite beaches" or "best beer." The webmasters choose the best lists, usually the most diverse and with the most detailed comments, and send money by Paypal or Amazon gift cards to the winner.  Continue reading »
Did you know DARPA is still around? You know, those guys that basically invented the Internet (hint: not Al Gore). I always assumed it was sort of absorbed by other government agencies/bureaucracies but apparently they are alive and kicking. Sadly, their Web site is a little boring and unimpressive, but that's beside the point.
I only found this out because I heard of the DARPA Network Challenge. Apparently it's the 40th anniversary of the Internet (woo hoo!) and to mark this event they're giving away $40,000 cash to one person. The contest is basically a way to show how the Internet has evolved into a social networking, information gathering, communication beast:
The challenge is to be the first to submit the locations of 10 moored, 8-foot, red, weather balloons at 10 fixed locations in the continental United States. The balloons will be in readily accessible locations and visible from nearby roads."
A-whaaa?
A $40,000 cash prize will be awarded to the first entrant to submit the latitude and longitude of all ten balloons."
So basically people have to work together in order to find all these balloons so that one person can get a load of dough? Seems more like a social experiment into what people will do for money. I wonder how many people are going to be giving fake coordinates of balloon sightings to throw off contestants?
HOW TO COMPETE

Register on this web site on December 1.
Find other people interested in helping you solve the DARPA Network Challenge.
Starting December 5, submit locations to the web site immediately after you find them.
For updates, follow us on Twitter."
I'm interested in seeing how this whole thing plays out because right now there's some serious confusion. Registration opens Dec. 1, balloons are launched Dec. 5 and submission deadline is Dec. 14. There will be no other prizes but if one person doesn't get all of the correct coordinates it goes to the person with the largest number of correct entries.
It's all sort of weird but exactly what I'd expect from a bunch of nerds who invented the Internet. Keep it up, you glorious geeks.
You think you get a lot of spam e-mails? Try being an editor for a newspaper.
The amount of spam I receive is astounding, and most of it is written like a press release trying to entice me into thinking their product is awesome enough to let the entire population of Hugo, Okla. know about through our fair publication.
Needless to say, I check my e-mails with one finger over the delete button. I read in the Oklahoma Press Association publication awhile back that one paper decided to start sending e-mails back asking to send a sample of their product. Surprisingly, this method has worked and the paper has received items like coffee pots and make up. They then review the items, good or bad. This is a fun idea, but I just don't have the patience right now.
One junk e-mail has stuck out for me as I have received it about three times now and the product just sort of blows my mind.

Meet the SPIbelt:

Look at that handy little pack. She can fit so many things in it, too! A phone, a wallet, some keys … And it fits right on your hips, one might even say it fits snugly above the fanny. Oh wait, I've seen this before:


It's a fanny pack, people! I'm only an assistant editor not a miracle worker, I cannot bring the '80s back for you.