Browsing articles in "consumers"
For me, the Humble Music Bundle could not have come at a more perfect time. I had recently started listening to Nerdcore rapper MC Frontalot on Spotify after a little incident on Reddit revealed that my previous-favorite Nerdcore rapper MC Chris is a giant douchebag.
If you're not familiar, the Humble Bundle is a project that usually offers up a bundle of indie video games for an incredibly low price. You pay what you want, but to get the entire bundle you'll need to pay at least a cent above the average. You then decide how much of your money goes to charity, the artists and the site. The charities it supports are Child's Play, which works to give video games to children stuck in hospitals, and the Electronic Frontier Foundation, which defends free speech, privacy, etc. in the digital sphere (basically think of it as the enemy of bills like SOPA).
So, back to my story, just as I was getting into Frontalot's tunes, Humble Bundle announced its first-ever music bundle with not only 20 awesome tracks by MC Frontalot but 14 songs by Jonathan Coulton (famous for the "Still Alive" and "Want You Gone" Portal themes), and a plethora of music from OK GO, They Might Be Giants, Christopher Tin, and Hitoshi Sakimoto. All for 8 bucks! How could I say no?
Even if you don't typically "pay for music," this one is just worth it. You're getting the fully licensed, legal music of some incredibly cool artists and giving to charity for $8. There's 2 days left as of this post, so get on it!
With that I leave you with this.
Tyrannosaurus Rex, the "tyrant lizard king."  Ferocious, unstoppable beast or adorably cute and misunderstood?  I think the latter.  I love T-Rex (and you too, Stegosaurus).  Here are some adorable T-Rex products that will make you love him too (clicky for more):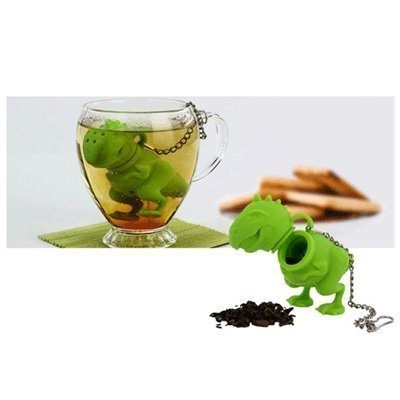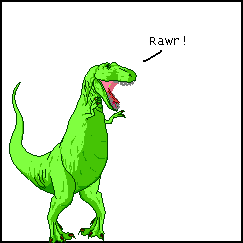 I know I make a lot of posts about finding deals online. What can I say? I'm a bargain girl. But lately, the subject of glasses has come up a lot. The necessary evil. Glasses are one of those things you have to have in order to see but they cost a lot. Most people will simply purchase the most affordable/nicest looking pair from their doctor's office and then be stuck with them for years — until their next appointment and they get a new prescription or until they break. This sucks.
First of all, glasses are a fashion accessory besides being a necessity. You should be able to have multiple pairs to wear in different situations/with different outfits.
Second, you should always have a back up pair in case of the inevitable: You sit on them, you step on them, you drop them, you lose them behind the mattress in a night of passion, whatever.
A few months back, I had a major prescription overhaul. I apparently went from astigmatism but basically able to see without glasses to oh my God why are you driving you're totally blind you're going to kill us all. Anyway, after the doc gave me the little paper saying I have broken eyeballs, I skipped out of there, waving goodbye to the sad glasses sales lady.
From the warm glow of my monitor, I then purchased these bad boys:


How much? $100? No. $60? No. $35? No. $20? No, no, no. Wait for it…$8 (plus a little shipping). I get compliments and am asked a lot about where I got them (and the pair I had before) and people seem surprised I got them online. A lot of people have heard of the good deals on glasses online but I think they feel it's too good to be true and stick with the old school methods. But I am here today to tell you that I have used two different online sites and have been completely satisfied and completely not scammed.
The site I bought this most recent pair from is http://www.zennioptical.com/. Their glasses range in price from $8 to about $30 and that includes the prescription. There are extra charges for bifocals, adding tint, transitions and other special things but who needs that stuff.
I know the site looks a bit sketch, I mean what's up with this guy?
Many people who know me know I love legit ways of winning things and making money on the Internet — the trouble is finding the legitimate sites. For the most part, you can't go wrong on sweepstakes and contests sponsored by corporations. For instance, I won the Razer Carcharias headset from Mountain Dew when they were running their Game Fuel competition with Blizzard Entertainment. By watching videos and clicking around the site you made points each day. Those points were essentially like raffle tickets that you could use on their hourly drawings for lots of gamer and Mt. Dew loot — e.g. entering 200 points put your name in the drawing 200 times.
On Twitter, I have won free domain names from NameCheap (yes, this very site is a result of that) and a World of Warcraft prize pack from Blizzard, although it took its sweet time showing up.
MyLikes, formerly Likaholix which I posted about before, has been pretty sweet to me. I've won a lot of money (that's right, cash) through their contests, which simply require that you make a list of likes for specific categories in the contest like "favorite beaches" or "best beer." The webmasters choose the best lists, usually the most diverse and with the most detailed comments, and send money by Paypal or Amazon gift cards to the winner.  Continue reading »
You think you get a lot of spam e-mails? Try being an editor for a newspaper.
The amount of spam I receive is astounding, and most of it is written like a press release trying to entice me into thinking their product is awesome enough to let the entire population of Hugo, Okla. know about through our fair publication.
Needless to say, I check my e-mails with one finger over the delete button. I read in the Oklahoma Press Association publication awhile back that one paper decided to start sending e-mails back asking to send a sample of their product. Surprisingly, this method has worked and the paper has received items like coffee pots and make up. They then review the items, good or bad. This is a fun idea, but I just don't have the patience right now.
One junk e-mail has stuck out for me as I have received it about three times now and the product just sort of blows my mind.

Meet the SPIbelt:

Look at that handy little pack. She can fit so many things in it, too! A phone, a wallet, some keys … And it fits right on your hips, one might even say it fits snugly above the fanny. Oh wait, I've seen this before:


It's a fanny pack, people! I'm only an assistant editor not a miracle worker, I cannot bring the '80s back for you.
Every year, for the past 24, PNC does a Christmas Price Index that calculates the cost of goods for every item in the song 12 Days of Christmas. This is surprisingly a good measure of the economy for the year and inflation. This year, the price is the highest ever at a whopping total of $21,080.10 for 2008, which is $1,573 more than 2007. Of course, if your true love is an online shopper, it's going to cost them $31,957. If you buy all 364 gifts you will pay $86,608.
Here's a helpful breakdown for the interested lovers out there: