I suck at Craigslist. I'm not proud of it. As a marketer, it's always been a sore spot. I mean, I've sold things here and there but it's never been quick and it's come with a fair amount of drama.
I think part of the problem is Craigslist is kind of hard to take seriously. Between the obvious scam artists: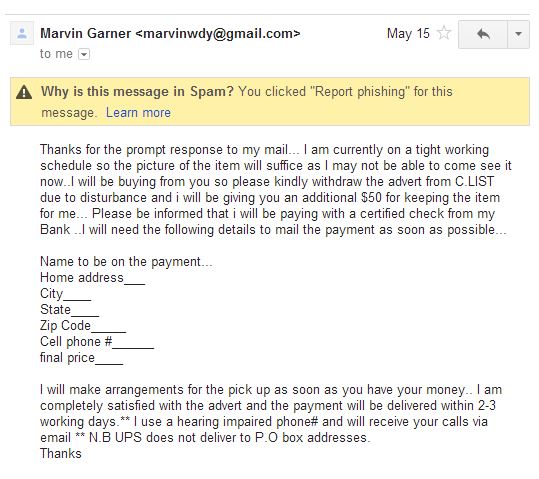 To the unspeakable sections like "Casual Encounters" and "Missed Connections." Then there's just good ol' fashioned terrible grammar, spelling and photos all over the place.
Back to my dilemma. I had a new bedroom set coming in a couple of weeks and had to get rid of my current set. The old girl had gotten me through college and two moves, but it was time to say goodbye. I'll be honest though, after cleaning out all of the drawers and giving it a good cleaning, I just wanted to be done with it. So I hastily took some photos (at night) and slapped together a quick post with all the details I thought someone buying a bedroom set might want. This was the result:
And then I waited… and renewed the ad… and waited… I lowered the price from $400 to $300… then waited. My inbox was basically crickets. I received one offer but didn't hear back after responding. (Side note: Can we agree as a people to not do this? If you're no longer interested, just let the person know! Don't be a jerk.)
In frustration, I asked for advice from my boss who has successfully sold a lot o' junk high quality items on the CL. She gave me some simple tips that got my stuff sold.
It boiled down to this:
1. Take good pictures
In my case, I opened the windows for natural light, found flattering angles and cropped out the ugly rose wallpaper (hey, it's a rental)!
2. Be a little clever/funny
I made some quips about IKEA and a local furniture store.
3. Just put your bottom dollar and be done with it
You want to get rid of it, right? I lowered my price to the lowest I was willing to take. No more OBO.
Voila, here is the result:

This ad got me multiple emails within the hour and it was sold that weekend. This all may seem like common sense, but it's easy to not put a lot of effort into Craigslist ads. Just head to the furniture section and start clicking around if you don't believe me.
Good luck on your next adventure with Craigslist! And may the odds be ever in your favor. 🙂